Painting of Sorrow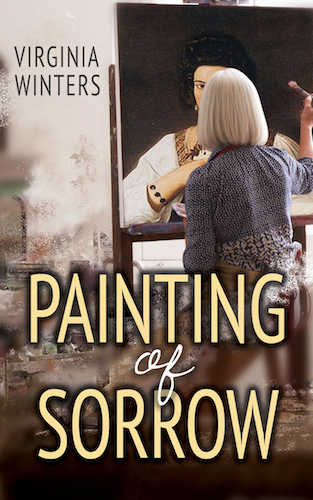 Sarah Downingg, an art conservator hiding in witness protection, identifies a lost masterpiece by Caravaggio.

History says it burned in WWII Berlin but here it is, on her easel.
Soon she is fighting to save the painting and her own life.
Who has betrayed Sarah—an agent, a friend? Whoever it was, her ex-husband Jimmy is standing on her street, outside her house, waiting.
What Sarah does next sends her from Kingston to Italy to rural Ontario in her desperate attempt to survive, save the Caravaggio and rebuild her life with a new love.







Dangerous Journeys, a series

Murderous Roots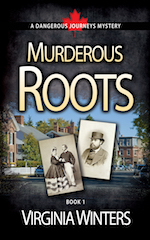 Anne McPhail, genealogist and pediatrician, on a journey to her own past, stumbles across the body of researcher Jennifer Smith, lying murdered in the town library. Anne's journey takes a dangerous detour into Jennifer's past when she is drawn in to the investigation by detective Adam Davidson, to help him understand the genealogy and the possible motives behind the murder. Who among the elites in the small Vermont town of Culver's Mills have enough reason to kill—one of the founding families, or a local chiropractor, or a grandmother? Anne, a young widow, is attracted to local businessman Thomas Beauchamp, but will the investigation engulf his family as well? Genealogy in the midst of a murder investigation reveals secrets, secrets that threaten Anne's own life, before she exposes the killer in their midst.

Amazon
The Facepainter Murders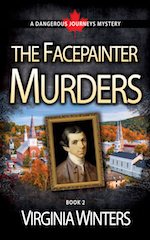 Anne McPhail is back in Culver's Mills, Vermont for a quiet holiday. But Culver's Mills is an unlucky spot for her vacation. She finds the dead body of a naked man, and is soon helping her friend Adam Davidson to investigate the murder. Who is the dead man and what was his involvement with the theft of a painting and a sampler from the art gallery? Who owns the art, James Trevelyan, an elderly man whose genealogy may hold the key, or the owners of Evan's, the restaurant where they were found? More bodies turn up as the murderer kills the others in his criminal gang. Then he turns his attention to Anne.

Amazon
No Motive for Murder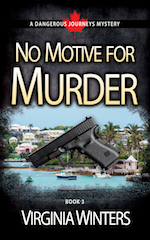 Anne McPhail is on holiday in Bermuda, visiting her sister. She witnesses upon a murder in progress and this time, she is more than just a witness, she is a suspect, dealing with a police officer who decides Anne is guilty, and sticks to it in face of the evidence or lack of it. But more is going on than a random murder. Anne is caught in the middle a dangerous assassination plot. When she inadvertently upsets the killer 's plan, he turns his attention to her. The risk spreads to her family and friends and then Thomas Beauchamp arrives on Bermuda. When his role is revealed, Anne's life takes a
dangerous turn.

Amazon

The Child on the Terrace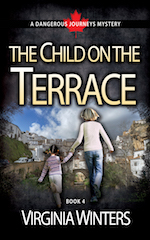 Anne McPhail, retired pediatrician, shattered by her experience in Bermuda, rents a tiny house in Setenil, Spain, hoping to reconcile what she learned about herself and Thomas after the gunfire in that dark room on the island.
But she sees a child on the terrace of the local café who doesn't seem to belong to her minders and then Ari, the Mossad agent who saved Anne's life, seeks her out with a plan to rescue the child from kidnappers. Should she trust him? Three days later, she is on the run with Ari and the little girl, with killers Esti and Sergio on their trail. She glimpses a man she thinks is Thomas. Is he, too in Spain? And why?
How far will Anne go to save Naomi?
From Spain to France to Italy, this is Anne's most dangerous journey.


Amazon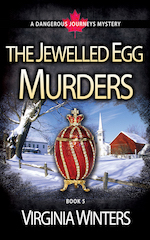 The Jewelled Egg Murders
A Christmas holiday in Vermont turns deadly for Anne McPhail whose hopes for a quiet family celebration with Thomas Beauchamp derail when his children reject her, and his mother falls ill. Anne flees to her friend Catherine's B&B for comfort and a place to stay, but when she goes for a walk to the town square, she stumbles across a body in her friend Erin's antique store. A few hours later, Erin disappears. Is Erin a suspect or a victim? While Anne joins the search, an old adversary, plotting revenge, arrives from Europe. Anne stumbles over another body, and then the killer closes in on her.
Amazon